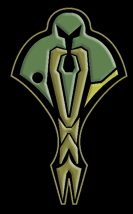 Sollten Sie nicht automatisch weitergeleitet werden, klicken Sie auf das Logo.
Star TrekŪ, Star Trek - Deep Space Nine, Star Trek - The Next Generation, Star Trek - Voyager and Related Properties are registered trademarks and copyright of
CBS/Paramount Television
, Copyright © 1966, 2001. The Star Trek web pages on this site are intended for entertainment and educational purposes only. All other trademarks and copyrights are the property of their respective holders.